xtras
> archipel.23 / LOST & SECRET projects
> pathostransport.de // dramatic oeuvre
> www.literaturport.de > waschkau
paul m waschkau... author/playwright/director, has lived in Berlin since 1986 with extended periods in Paris, Buenos Aires, Lisboa, Lima, Mexico, New York, Montevideo, Marseille, Brazil and Odessa. A writer with a distinct penchant for dramatic textures and text-dissecting recitations, his literary and artistic work is largely situated in the indefinable borderland between poetic prose and peripheral theatre/poetry.
He was editor of a number of literary/theoretical journals (MINERVA/archangelsk/ALASKA), is cofounder of various art-projectiles (including HYDE KARTELL BERLIN/ Club der Bewussten/ BÜRO ARTAUD) and the initiator of specialist cult.congresses (Artaud Tribunal/Danielle Sarréra congress).
He has directed the international FORMATION INVASOR since 2006, radiating audiophonic and cinematic night flights and productions as TRAJECTORIES IN TIME.
> HYENA HEART / A KAMIKAZE's DREAM # english version !
books >>> EXIT.49 – novel # Kato-Verlag Berlin 2007
archangelsk/träume aus titan - romantic fragment # Druckhaus Galrev Berlin 1999 
pmwaschkau has received grants and writing scholarships for literary projects (from, among others, Stiftung deutscher Kulturfond # Artaud.Foundation Marseille # House of Waves/Rhodos # Kunststiftung Schöppingen # Autorenstipendien Berlin & Schleswig-Holstein). He was awarded the Leonhard Frank prize of the Mainfranken Theater Würzburg in 2011 for his dramatic composition "NACKTES LEBEN oder BEI LEBENDIGEM LEIBE".
<![if !vml]>
<![endif]>
  Frisierter Mischnitt einer Lesung in der Volksbühne Berlin.
"It's late. I'm tired. I'm so tired. I want to sleep. I just want to sleep."
<![if !vml]>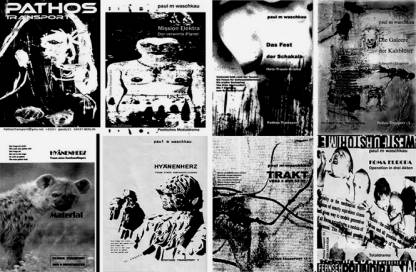 <![endif]> more drama >